Regular price
£24.99
Sale price
£24.99
Unit price
per
Sale
Sold out
Share
View full details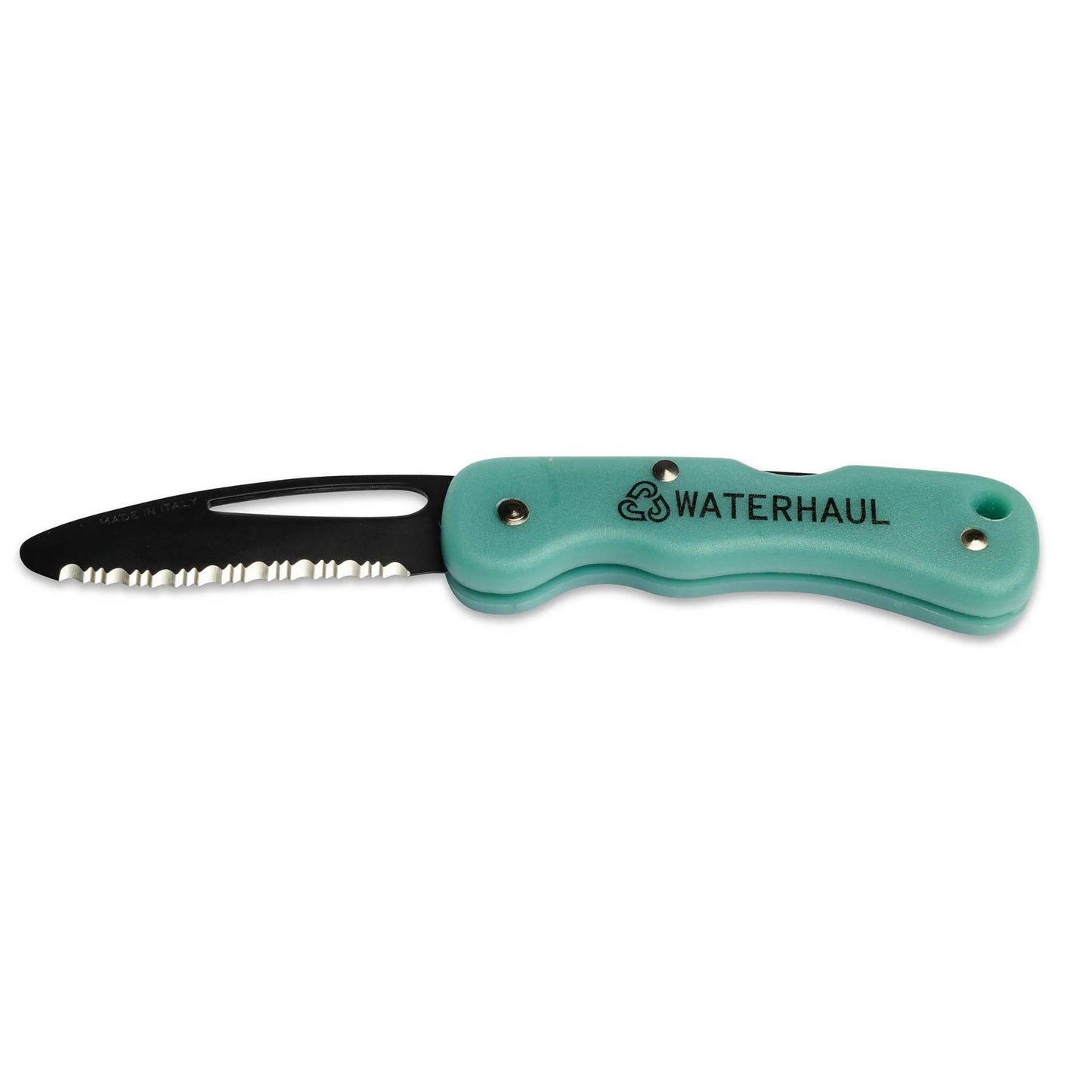 The knife we wanted didn't exist, so Waterhaul created it. This river/beach cleaning knife is made from 100% recycled Cornish gill nets. The high-end Italian serrated blade is specifically for water safety and for tackling ghost gear.
RECYCLED HANDLE
- 0% virgin plastics, 100% recycled monofilament gill nets, which are regarded as the most dangerous form of ghost nets due to their likelihood of entanglement and invisible underwater appearance.
- The green 'seaglass' colouration of the knife is entirely derived from the original netting and has no additional pigments or dyes.
- Ergonomic shaped handle with folding blade design.
- Loop hole for carry attachment
DESIGNED FOR FUNCTION

The blade and components of our beach cleaners knife are made with 2.5 mm thick W 1.4034 stainless steel for an optimum blend of corrosion resistance properties without sacrificing hardness (56HRC) and the ability to hold an edge.
- Made in Italy by precision knife makers
- 61 mm total blade length
- Purposeful blade with 50 mm (65 mm for blunt tip variation) serrated section for slicing through tough ropes, nets and lines
- Safety tipped design with a blunt tip featuring a longer serrated section for cutting thick nets and ropes.
- Built to last. Whilst steel blades are initially energy intensive to create, our knives are built for a lifetime of purpose and adventure.
EVERY PRODUCT HAS DIRECT IMPACT
Not only are you enabling your own beach clean capabilities, but you are also directly enabling the expansion of Waterhaul's ghost gear recovery, recycling efforts and creating a demand for plastic to be removed from the ocean.
You'll also be supporting the delivery of PlaNET Action, Waterhaul's education program. They deliver workshops across the UK, with their portable ocean plastic recycling machines and marine biologist educators deployed to engage and inspire the next-generation in the marine environment and the plastic pollution issue.